There are a wide range of activities around our Welsh Holiday Cottages
Mountain Biking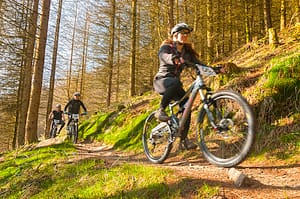 South West Wales is made for biking with wild moorland and mountain rides, undulating rural trails, rocky bridleways, endless forest roads and beautiful green lanes through time-stopped villages.
Word is out about Carmarthenshire's natural terrain and man-made trails in the Brechfa, Cwm Rhaedadr and Crychan forests.  The county is now firmly on the map as a premier off-road biking destination.
For specialist trails check out www.mountainbikingWales.com
Family Cycling
There are several marked National Cycle Network routes in West Wales which can be found at www.gps-routes.co.uk  Alternatively there are many almost traffic free roads, together with public bridleways surrounding Blaenwenllan.
See OS Explorer Map No 185 Newcastle Emlyn/Castell Newdd Emlyn.  Bikes can be stored free of charge in our barn. We are working on local cycle/walking routes and hope to have some tried and tested suggestions available for 2016/17.
Walking
Carmarthenshire, Ceredigion and Pembrokeshire are 'a walker's paradise just waiting to be discovered'. If you crave a fresh air experience in a landscape that is varied and diverse, then put on your walking boots and explore this fascinating area  which has become a hiking hot-spot and is fast gaining a reputation for some of the finest walking terrain around.
Whatever your ability you will find the perfect landscape for your ability including a heady mix of rural and coastal delights, all intertwined with history and tradition. There are more than 30 different walks in Carmarthenshire alone, each unique in character. Whatever path you choose to take you will discover a warm Welsh welcome and somewhere well worth exploring.
Downloadable walking routes can be found at:
www.discovercarmarthenshire.com/active/walking.html
www.discoverceredigion.co.uk/English/what/walking/Pages/
www.visitpembrokeshire.com/activities-adventure/walking
The National Trust offers marked and mapped routes from short 3 miles to longer distance routes.  Find these at www.nationaltrust.org.uk.
Alternatively why not try walking directly from Blaenwenllan Holiday Cottages.  OS Explorer Map 185 Newcastle Emlyn/Castell Newydd Emlyn will allow you to plan routes based on almost traffic free lanes, bridle paths, footpaths and green lanes.
We are working on providing some recommended routes and hope to have these available in 2016/17.
Family Activities
You will be spoilt for choice when it comes to things to do with the family. We suggest you check out www.dayoutwiththekids.co.uk  or  www.visitwales.com/holidays-breaks/family
For those wet days Teifi Mania in Cardigan offers an indoor soft play centre. Or try Blue Lagoon which has indoor and outdoor swimming pools, with calming rapids for the adults and crazy waterslides for the kids.
The Oakwood Wildlife centre combines education with fun and both Manor House Park and Folly Farm offer great indoor and outdoor play area, plenty of animals and are perfect for all the family.
Dan yr Ogof – www.showcaves.co.uk
Blue Lagoon – www.bluestonewales.com
Oakwood – www.oakwoodthemepark.co.uk
Folly Farm – www.folly-farm.co.uk
Manor House Park – www.manorhousewildlifepark.co.uk
Wildlife centre – www.welshwildlife.org
Fishing
Fishing enthusiasts can enjoy a variety of fishing experiences from coarse fishing, sea fishing or river fishing
Ceredigion – www.newquay-westwales.co.uk
Carmarthenshire – www.sylenlakes.co.uk
Pembrokeshire – www.ian-heaps.com
Teifi River Guides – www.teifiriverguides.co.uk
Fishing on the Teifi
The Teifi, our local river, is quite big with many deep pools, swift glides, waterfalls and rocky gorges. It is very rich in insect life and so offers a fine variety of fishing for trout, sea trout, salmon and even the occasional grayling.
Sea trout (sewin) run from April until October with the cream of the sewin fishing between late May and the end of August. Based at Llandysul, the Llandysul Angling Association offers day, week and season permits on some 30 miles of the River Teifi. This includes in particular several world-famous salmon and sea trout beats.
The trout fishing in the upper beats of the Association's waters is well known and was popularized by the late Oliver Kits, who made TV programmes there in the 1960's.
Notable catches in recent years include salmon to 23lb (10.5kg) sea trout to 17lb (8 kg) wild brown trout to 5lb(2.4kg) and grayling to 2lg 8oz (1.3kg).
For permits contact Llandysul Angling Association at www.fishing-in-wales.com
Golf
There are plenty of opportunities to get a few holes in. Golf lovers will find Newcastle Emlyn central for all the local courses. You won't have to go too far for the Cardigan, Saron, Carmarthen, Newport and Aberystwyth courses.
Cardigan –   www.cardigangolf.co.uk
Newport – www.newportlinks.co.uk
Carmarthen – www.carmarthengolfclub.com
Aberystwyth – www.aberystwythgolfclub.com
Sea Voyages
For those interested in making magical memories there are various dolphin and wildlife spotting boat trips. Fully guided marine tours are available from ABay to Remember.  There are Newquay boat trips, dolphin survey trips and boat chartering.
Cardigan – www.baytoremember.co.uk
Newquay guided trips – www.newquayboattrips.co.uk
Research – www.cbmwc.org
Charter – www.seamor.org
Adventure and extreme sports
For those of you who enjoy a challenge whether it be white water rafting, kayaking, canoeing, rock climbing, paintballing, coasteering, quad biking, wind surfing, dry slope skiing, quad biking and carting, there is a centre for you!
Multi activities –  www.ceridwencentre.co.uk
Multi activities – www.llain.co.uk
Multi activities –  www.exelement.co.uk/carmarthenshire
Multi activities – www.showmewales.co.uk